March 2021 Newsletter
We have arrived!
We blessed our staff with a "Thank You" meal from Hungry Lion.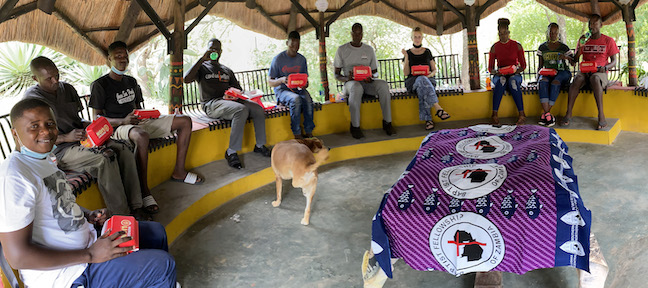 Belated Happy Birthdays!
Since we have been gone for over a year, we have failed to celebrate birthdays for our staff.  So, we made up for it with a group birthday party…and in true Zambian tradition (where the victim is doused with water on their birthday), we made sure we celebrated in Zambian style.
Karen was not exempt since her birthday was celebrated as we arrived in Zambia.  She knew what was coming and expected the worst!
Bible Studies in Mukuni, Mukalahani and Maloni are still going strong – it is amazing how much they have grown!
The Good News Club
The GNC took a month off for a break in school.  They started back just as we left off.  We now have to teach in 2 sessions on Saturday as they are still observing social distancing.  The numbers are still strong and they have grown spiritually over the past year.  Our staff does such a great job directing this operation.
Karen's heart is just too big!  She has started working with the Zambian Down Syndrome children.
It is not getting any better – leaving family behind…
In 2008 it was just Karen and myself and our 5 children.  Today there are 4 additional spouses and 7 grandchildren.  Leaving them behind is getting so much more difficult.  Children, grandchildren and aging close friends and family causes much heartache…as we fly off to another country.  Prayers are requested!
We have begun our 13th year in Zambia.
This next year we expect to see a church planted in Maloni; growth in ZIMKO; maturity in the men's and women's Bible Studies; a goat project for widows and the vulnerable; continued Bible Training and Discipleship training; growth in our pastors; community projects in Maloni to assist alcoholics and drug abusers; skills training, and youth sports evangelism.  BUSH TRIPS will continue to take us deep in places where Jesus is not known or is poorly understood.  The Good News Club will continue to be a primary focus at our base.  New vistas like Down syndrome ministries, assistance for orphans and "Showers of Blessings" that many of our USA partners send us in 55 gallon drums will continue to be shared with all of our Zambian friends.  This is too much for one couple.  Thank God that He has sent us these capable partners to assist in this ministry. Yes, if God is calling you…we could use your help!
Please pray for all of us as we endeavor to complete these tasks.