Church of Life UPDATE!
First Sermon is in the books!
[Disclaimer:  There is great debate as to the pronunciation of the name of the local community that we live near and serve.  Some say it is Malone…others say it is Maloni.  It is pronounced: ma-lo-nee…I'm settling on Malone – for now]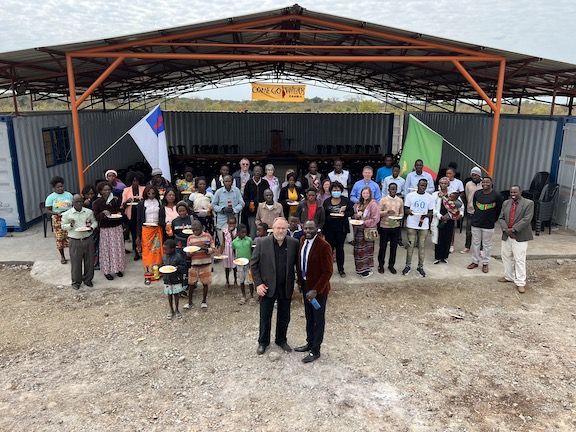 In 2013 we resigned from the orphanage that had served as our home in Zambia for 5 years.  Our next resting place took us to the city of Livingstone where we would find a nice place to serve as our home base for ministry outreach and enough space to host mission teams. We knew God was leading us to this "particular" place to serve as a focal point for our ministry outreach in the surrounding villages of the Southern Province.  What we did not know was there was another place – a compound by the name of Malone – with nearly 10,000 people just about a mile from our new home base.  In April of 2017 Karen introduced the Good News Club to the children at the Malone school (located about a mile down the road from our base just outside of Livingstone…and about 5 minutes from the famous Victoria Falls).  About 65 kids showed up at our base that next Saturday.  Over the next 6 months the weekly totals at the GNC steadily rose to around 300-400 each weekend.  By 2019 we were given enough funds to build a large shelter at our base to host the increasing numbers of children – reaching a high of over 900.  This past month on "Store Day" we had well over 1000.  BY CHANCE,  during some interviews we had with some of the Maloni parents we began to hear a constant plea; "we are very happy with the way you are helping our children – they are actually teaching us…so, 'when will you have a Good News Club for us parents?'".  It was becoming clear that God wanted us to plant a church in Malone.  Warp forward to July 2022…and, through the efforts of many of you, the Come Go With Us Church Of Life is open for business.

In April we acquired a 12 acre piece of land – soon to be named – just about a 1/8 mile from our home base.  It took about 2 months to clear the brush with the aid of a group of 22 trusted prison inmates and a handful of young boys, men, and women from the Malone community – as well as our capable staff.  A 900 meter long (about 3000 ft)  "box" fence was installed with an accompanying electric wire on the outside of the main fence to ward off Elephants and various other "curious" animals and people.  Three 40 ft. shipping containers were arranged in the shape of a "U" with a metal roof over a cement slab that forms the "open-air" R. C. Byrd Community Worship Sanctuary. A completely self-sustaining "Solar System" has been installed to provide all of our current electricity needs.  The next needs are about $6,000 for a well and $4,000 for a men's and women's restroom.  We dug an 8 ft. deep pit for the septic tank which is ready for construction. This facility is already hosting the Good News Club on Saturday, 3 alcoholism awareness training programs each week, and church and worship services on Sunday.
Sunday, July 3, 2022, was the first service where we had about 49 in attendance.  The Mineral Springs Baptist Church mission team was  on-hand with us to celebrate our "soft" Grand Opening. (an official grand opening is being planned for the near future).  We have a plethora of community programs slated for the center: alcoholism awareness, skills training, computer training, Bible studies of various groups, economic empowerment programs, literacy training, discipleship training, the new Bible College, at least one (if not two) soccer fields are planned (pending funding) for "football" tournaments, as well as the GNC and regular church services.
We have completed Phase 1 of the Come Go With Us Church of Life.
Some of the programs have already started – Bible studies, a choir and a core group of youths has been formed.  Given, our head of security, has volunteered to be the Worship Leader.  Things are coming into place nicely.
Our prayer is that we reach completion with a Bore Hole, Funding for the Solar System, Toilets, Septic Tank, (2) Soccer Fields, Pews, "various and sundry" other little things that still are yet to be finished.  Below is a button that leads to an opportunity for you to play a role in the completion of this vital project.
On behalf of the new CGWU Church of Life…
Thank You, Thank You, Thank You!!!
Thank you for helping this church answer the big Malone question:
What do you have for us???
Love,
Ken & Karen Buckner