ELVIS's New Ride!!!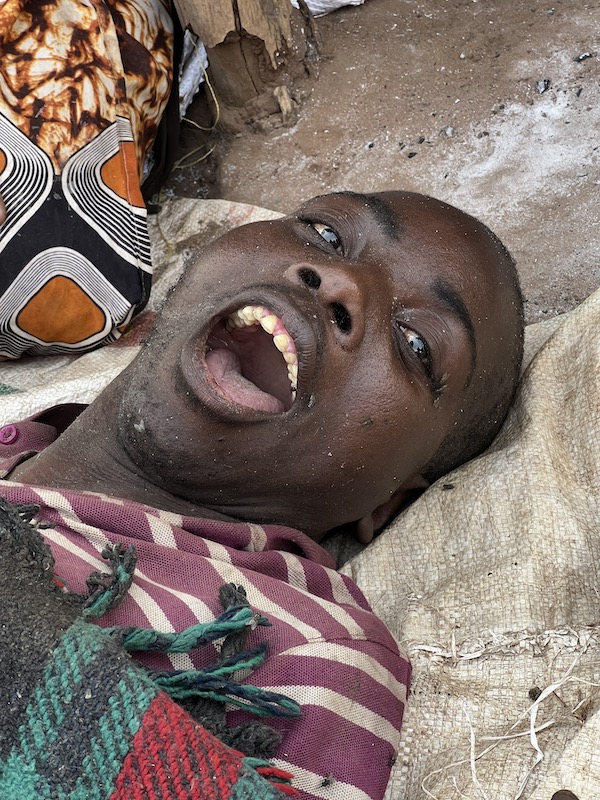 Let me introduce you to ELVIS.  Yes, his name is Elvis.  I don't know his last name (I just have not asked), but he lives in the village of Mukalahani – a place we have been ministering to for about 4 years.  He is about 35 years old and is severely handicapped.  About the only thing he can do is make some mouth noises.  He can't speak, but he can move his mouth, his eyes and he can eat and breathe – and that is about it.  He has been like that all of his life.  His mother does what she can, but struggles – as you can imagine.  When I saw him in July he had been given a wheelchair – which was not the best device for him to use.  The area where he lives is very sandy and makes pushing him very difficult as the small wheels dig into the sand and his "elderly" mother really struggles to move him around.  But, she is very faithful attending the weekly Bible studies…and always brings Elvis with her.
At first glance, Elvis appears to be a vegetable since he cannot move his extremities and cannot communicate like you and I.  But we quickly found that he really understands what he hears. Sometimes, it seems that he can even understand what we say to him in English.  When he is happy or excited his mouth gapes wide open exhibiting a level of pure joy…and it is highly contagious.  He makes sounds that cannot be understood…but it is clear that he understands nearly everything he hears…and he is so happy when he gets attention.  When Karen gave him a tee shirt, it pleased him to no end. He had a constant giant smile that never ended that day.  He is such a joy to be around!
In August we were in Mukalahani Village with a couple visiting from Myrtle Beach – Rich and Pam Birch.  Rich also noticed the difficulty they had trying to move Elvis around in that wheelchair and we began to discuss alternative ideas.  So, we put our collective thinking caps on and set about looking for some scrap parts that we could piece together to make something that would work better – both for Elvis and his mother.  In the wheelchair, he had to be laid down and so it was difficult to see what was in front of him. Rich came up with a design that could be easily pushed or pulled and allow Elvis to be elevated enough for him to see what is going on around him.  They told us that he especially loves to watch soccer…but struggles to see the game from the "laying down" position.
So, we put on our "MacGyver" hats and began our quest…
This cart was a bit pricy in that we had to machine the axles and purchase some raw steel…but it was worth it.
THANK YOU!
to Rusty Jollie for providing all the finances needed to build this cart.
to Rich Birch for having the heart and the creativity to find a way to fit all those pieces of scrap together.
to Issue for providing key components from your scrap yard that made a huge difference.
to Emma for designing "just the right cushion".
to Pastor Enoch for putting it all together.
to Travis and Karen for being the Guinnie Pigs in the testing phase.
To Brighton for being the "go-between" with the head man and Elvis's mom.
…together we paved the way to put a great big smile on Elvis' face – one that I will never forget.
.
Love,
Ken & Karen Buckner