Church of Life Update – April 2022
Breaking ground soon!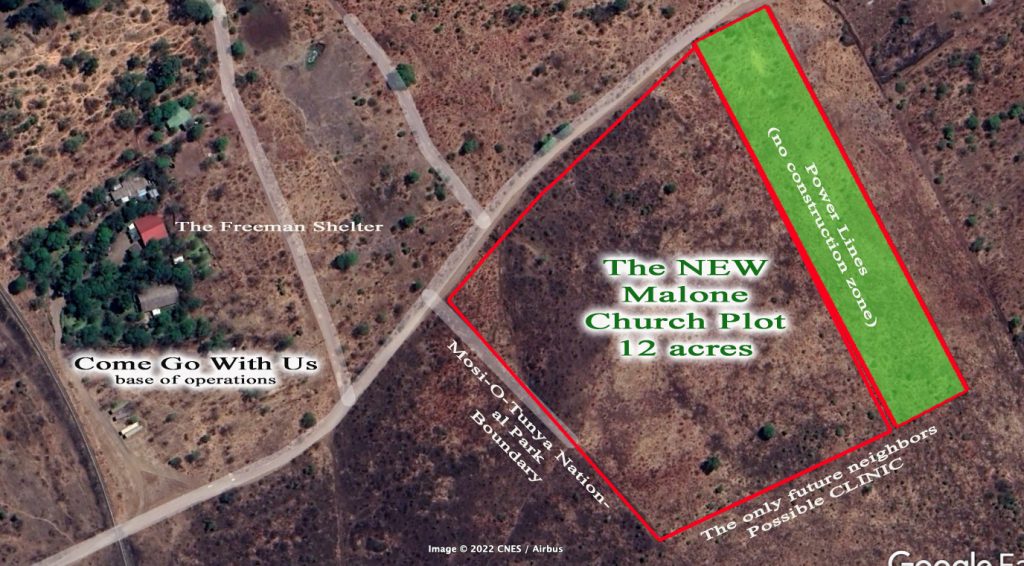 The Come Go With Us Maloni Church land has been acquired.  Our Title Deed has been created and is waiting for final approval.  The land is just a few yards from our current base and lies strategically between a set of power lines and the Mosi-O-Tunya National Park – giving us encouragement that there will be very little encroachment in the coming years as these areas are not open for building.  The project calls for a church/community worship center where the Good News Club will be relocated for Saturday programs.  In addition, we plan to begin our partnership with Ambassador International University – offering certificate level and Masters level seminary courses for local pastors.  We also plan to build a soccer field and offer community services such as, skills training, alcohol/drug addiction counseling,  economic empowerment as well as weekly Bible studies and discipleship training, etc…
The first order of business is land preparation.  We have a relationship with the local government prison in our town.  We have been allowed to hire the inmates for clearing the land.
The idea is to have a wide path surrounding the property lined with a fence and protected by an additional outer electric wire that will keep out animals (elephants) as we are within the Mosi-O-Tunya National Park.
Next Phase:
Our next steps is to to bring in electricity, drill a bore hole (well), and put up the perimeter fence.
We plan a Ground-Breaking ceremony within the next few days.
The Good News Club
The compound of Maloni is located about a mile up the road from our base.  Currently, we receive 500-600 children every Saturday for a children's bible program.  In addition, there are about a dozen teen-agers who have graduated from the GNC (for ages 6-12).  They volunteer to assist with the program each Saturday.  Currently, we transport these children in our bus and our Lorry (a low railed flat-bet truck) to and from our base.  With the plans to relocate the GNC to the new church land (which is closer to Malone and not in the path of wandering elephants), we expect that number to increase (there are over 5000 children in the Malone area).  The GNC is now known throughout the Malone compound as a place of refuge and Bible teaching for their children.  It has spurred a very strong weekly Women's Bible Study and a new Men's Bible study that Pastor Gift has started as a result of his door-to-door visitations in recent weeks.  The "plea" for a Good News Club for adults has prompted the plan to build a church in Malone.  Since the land-clearing has begun, we have seen much interest and anticipation for a time when they can all come to church at the CGWU Church of Life that will be located in the R.C. Byrd Community Worship Center.
We are very thankful to those who have sponsored this project and look forward to a day when this property will be a beacon of light to the people of Malone and surrounding areas.