Fred is back!!!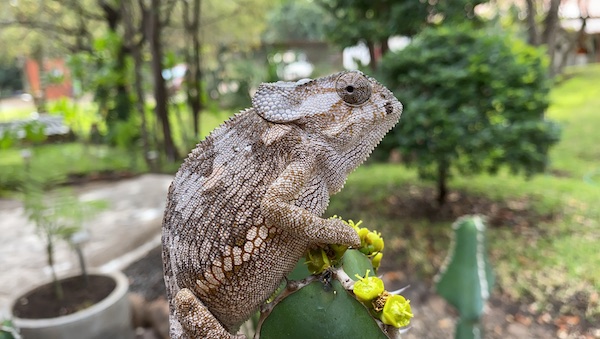 Chameleons are such amazing creatures.  This is Fred – he has visited us before and returned again this month.  "I think he missed us".  Some of you may remember Fred.  He asked me to greet you…and asked if you could send some nice "crickets" in the next drum?
Above and Beyond!
We have often been amazed with the quality of workers God has sent to us.  In a poverty stricken 3rd world country it is expected that the labor pool is most likely looking for an "easy way out"… a "hand-out"…or an opportunity to take advantage of the naive America missionaries.  Each of our staff are exceptions to that rule!!!  They each possess traits that indicate a true devotion to this ministry and they all exhibit supreme honesty.  Even those outside workers we occasionally hire for various specialty jobs, it seems that God "always" finds us the "cream of the crop".  Mike, the electrician has done most of our electrical work and I am continuously amazed at his eye for perfection.  I would put him up against any electrician I have ever worked with in the USA.  We recently hired Kevin to repaint the inside of the house.  His attention to detail, his work ethic and integrity is incredible.
About 3 years ago we found a tile layer who worked through the whole night laying tile to be sure it was done right and was a continuous solid mass. The fine job he did remains an example of perfection and integrity.  Sadly, the week after working for us he was killed in a freak accident.
The bottom line is: God continues to bring us "the best" workers – by far!!!.
Session 2 of the Good News Club began in late June.
What started out as an outlet for Karen's heart to minister to children has become a weekly event that the whole community looks forward to.  Today, it is far more than one person can handle.  The growth of our volunteer Teen Helpers show they have bought in to this program.  They meet weekly to undergo training and participate in the development of the weekly lessons for over 500 children from the Maloni neighborhood.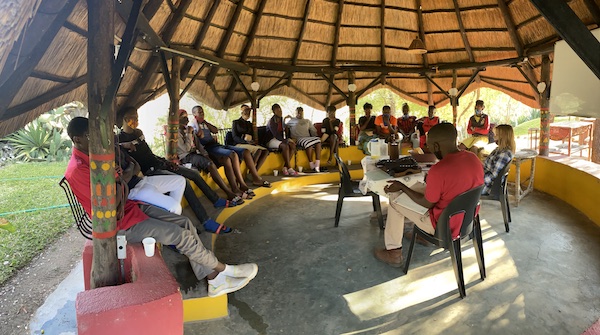 Please pray for the Good News Club!!!
Recent upticks in Covid-19 cases in Zambia has caused a short term "schedule change" for large groups.  The Good News Club has been limited to 100 children at a given session…and for no more than 1 hour.  Back in 2020, the GNC had to break up into 4 sessions – 2 on Friday and 2 on Saturday.  We now must resort to that same strategy in order to accommodate all the children who want to learn more about Jesus.  Hopefully, this interruption will only last for about 3 more weeks.  Please pray for our staff and the volunteer workers.  This schedule is grueling and makes for a very tiring 2 solid days of teaching, transporting, setup and tear down – every week.
This is the village of Mukalahani.
It started out as a weekly Bible Study aimed at the women.  It keeps growing and now, the men, women and children look forward to each Wednesday when Brighton and Howard goes to the village with the WORD.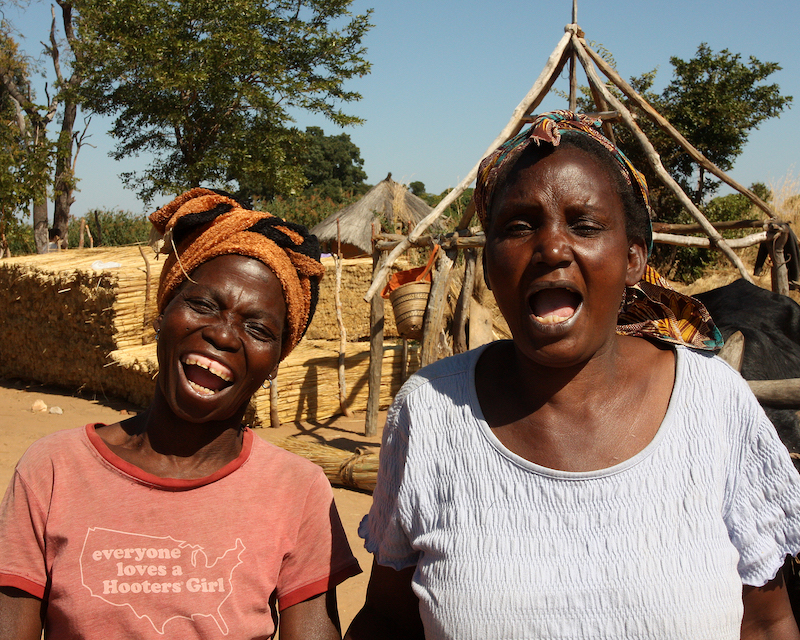 Happiness is:
A Zambian woman with her good friend…a nice shirt from America…a good job selling straw for rooftops…the love of Jesus in her heart and the chance to pose and say "CHEESE" for an American missionary.